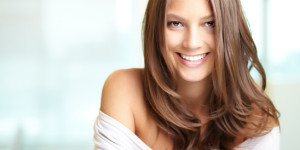 Problems with your teeth can greatly reduce your self-confidence. Whether you have black spots on your teeth, gaps, surface damage, or other issues, cosmetic dentistry can help. With your smile restored to perfection, you never have to be self-conscious about your teeth again.
How Can Cosmetic Dentistry Help Me?
Cosmetic dentistry is specifically designed to improve the appearance of your teeth. Our cosmetic dentist is specially trained in procedures meant to help you feel better about the way your smile looks. A wide range of procedures fall under the umbrella of cosmetic dentistry, including:
Teeth whitening

Veneers

Cosmetic crowns

Inlays and onlays

Tooth-colored fillings

Invisalign

Crown lengthening

Gum contouring
Each of these procedures is meant to deal with a different issue, such as discoloration, surface damage, or an overly "gummy" smile. The type of work you have done depends upon what you perceive as the problems with your teeth. You can also have a "smile makeover," in which several procedures are combined for optimum results.
Choosing the Right Cosmetic Procedures
You and our dentist will work together to decide what approach will be best for your teeth. You'll consult with the cosmetic dentist and talk about how you feel your smile falls short of the mark, and how you'd like it to look when treatment is complete. Based on your goals, you'll work together to determine what procedures will work best to achieve your desired look.
In some cases, you might be able to have more than one procedure performed in a single visit. This helps reduce the amount of time you have to spend in the dentist chair and also can reduce the cost of your cosmetic dentistry. Be sure to discuss these options with our dentist to be sure you approach your treatment in the most convenient way possible. The better your understanding of the type of work being done and the likely outcome, the better your chances of being completely satisfied with your brand-new smile.
Call our office today to speak with our caring team and set up a consultation!