Building Lifelong Relationships & Total Dental Wellness
Call or email us to book an appointment at our Yorkville Dental Office – 60 Bloor Street West, Suite 1510, Toronto
Build a lifelong relationship with a Toronto dental practice that cares about your total health and well-being. At Borovac Dentistry, we do more than just protect and care for your teeth, gums, and smile. We also keep you healthy!
Once you have been examined and X-rays taken, we'll develop a treatment plan and discuss the proposed approach.
We know there may be some individuals who are overcome by fear of visiting the dentist. Don't avoid essential care because you are uncomfortable about going to a dentist or embarrassed by the condition of your teeth.
Relax. Your fears can be conquered! The patient and gentle team at Borovac Dentistry will help you address your fears and hesitation about dental care. We have years of experience treating patients who are fearful about dental techniques and treatments. We use a variety of methods – including good old-fashioned chair-side care and empathy – to make you feel comfortable and relaxed.
An enjoyable experience at the dental office boils down to trust. One way to build a trusting relationship with your dentist and your hygienist is to ask questions and communicate. We welcome your questions and are always willing to explain everything in non-technical ways – free from intimidating terminology.
Your comfort and full awareness of all treatments, consequences and costs are the foundation of the trust we share.
We work with you to provide affordable care. While many patients have dental benefits through company health plans, some forms of dental work may not be covered. Before any treatment is started, we assist you with your dental insurance to determine the benefits available. There won't be any financial surprises.
Whatever dental care you may require, we sit down in advance to discuss your treatment plan, the shared costs, the direct costs, and ways to cover any uninsured expenses.
We accept VISA, Mastercard, AMEX and Interac. Our Toronto Dental Office submits your claim form directly to your insurance carrier for direct reimbursement.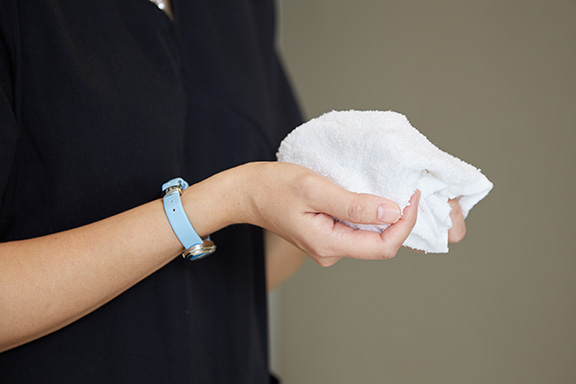 A little TLC
It's the little things our patients note that makes our practice special. We want you to leave our office refreshed. That's why we offer hot towels at the end of your visit, so you can continue with your day feeling relaxed and restored.
New Patients Welcome
Book an appointment with Yorkville Dentist Dr. Vesna Borovac