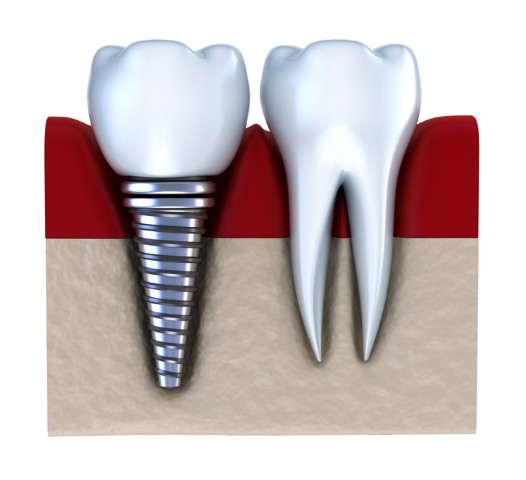 If you have a tooth that has been severely injured or broken, you have options as far as what kind of treatment to pursue. One option might be a root canal and a crown that can save the broken tooth. Dental implants offer another choice if the tooth is damaged enough that it must be removed.
 Deciding Whether to Save a Tooth
Deciding whether a tooth can be saved depends upon how badly broken or damaged it is. Minor damage can be repaired cosmetically. Severe damage might warrant a root canal. Extremely severe damage might leave you with no option other than to have the tooth removed and replaced.
Some situations that could lead to major damage to your tooth include:
Severe facial trauma
Severe decay
Long-term exposure to acidic foods
Gum disease
Your dentist can evaluate the damage and the state of your tooth root to determine if the tooth can be saved or if it should be replaced. If the tooth can be saved, it might require a root canal with a crown to preserve the chewing or biting surface of the tooth.
Deciding on Dental Implants
Severe damage to the tooth might make it necessary to replace it. For example, if a tooth is shattered on a violent impact, it will probably not be salvageable. In this case, a dental implant is an excellent option for tooth replacement.
An implant dentist can help you determine if an implant is a good choice for you. Dental implants require sufficient mass in the jawbone to support the root portion, and you also need to be in good overall health to ensure successful healing after the procedure. In some cases, implants can be placed immediately after the tooth is removed, or very shortly after the initial loss of the tooth. This shortens healing time.
If you have a damaged or missing tooth and would like to find out if dental implants are a good choice for you, please contact our office at 416-922-1012 to schedule a consultation with our implant dentist.