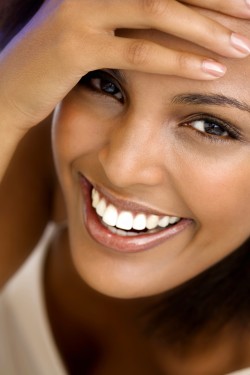 Teeth whitening is one of the most popular ways to spruce up your smile. However, it isn't appropriate for all your teeth, or for all forms of discoloration. Whitening can provide dramatic results, but for the best results, you should ensure you're treating teeth that are likely to respond well to the process.
Most Suitable Teeth for Whitening
Teeth whitening is most effectively performed on the front teeth, and on teeth that are affected by extrinsic discoloration. Back teeth can respond to whitening treatment, but they are rarely treated because they are not readily visible. Teeth with tooth-colored restorations are also not necessarily ideal candidates for whitening, because after treatment the teeth will no longer match the color of the restorations. Tooth-colored fillings, inlays and onlays, and other types of restoration must be replaced after whitening to match the new, lighter shade of the teeth.
Extrinsic staining is staining that affects the outer layers of the tooth. If deeper layers of the tooth, such as the dentin, are discolored, teeth whitening is not likely to produce the best possible results. For this type of staining, called intrinsic staining, another treatment might be more effective, such as veneers.
How Whitening Works
Teeth whitening can be performed either in the dentist's office or at home. Your cosmetic dentist can determine which approach will be best for you. In-office whitening is very popular, and can provide excellent results in as little as an hour. Your dentist paints the whitening agent on the surfaces of the teeth then activates the whitener with a special light. After about twenty minutes, the whitener is removed and reapplied, usually two more times for a full, one-hour treatment.
If your teeth do not respond well to this treatment method, your cosmetic dentist might recommend a take-home kit. He will supply professional-strength whitener that you apply at home using a custom-made tray. You'll probably wear these trays twice a day for about fifteen minutes at a time, with your treatment lasting about two weeks. Stubborn extrinsic staining often responds well to this type of whitening.
Contact our cosmetic dental office at 416-922-1012 for a teeth whitening appointment today.